Woman Battling Sickle Cell Disease and Breast Cancer Delivers Miracle Baby at Holtz Children's Hospital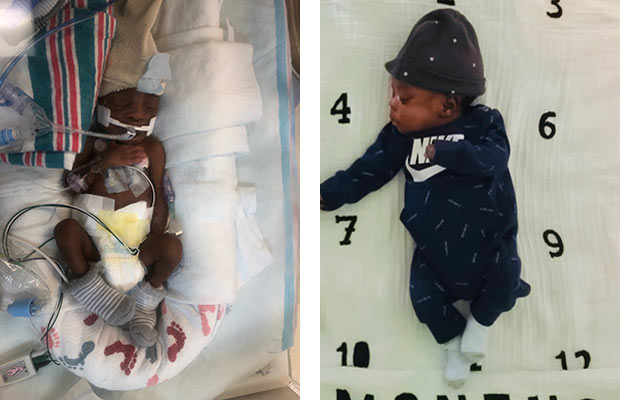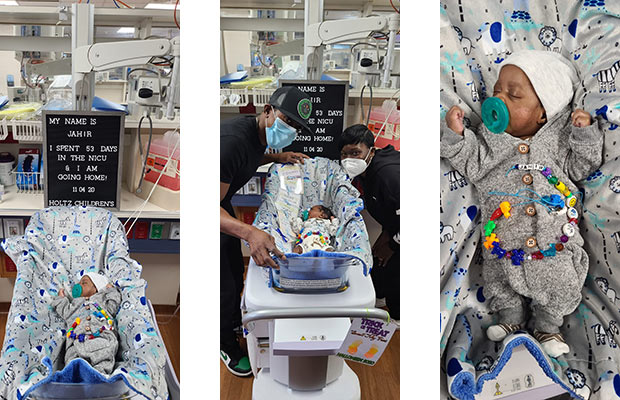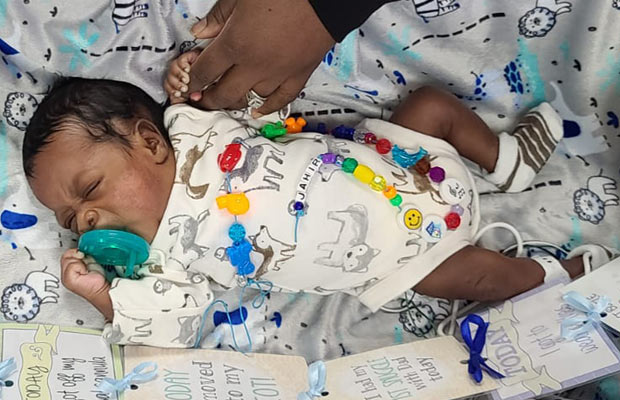 Sonia Hutchinson has been suffering from sickle cell her whole life. As an adult, this condition created complications with her pregnancies and had four miscarriages.
"After my last miscarriage last year, my husband and I decided to stop trying," said Hutchinson, 32.
But fate had different plans for Hutchinson and her husband.
In April, Hutchinson was rushed to Jackson Memorial Hospital after suffering a sickle cell crisis. While she was receiving treatment, her medical team discovered she was six weeks pregnant.
"At that point, the doctors told me there was a 50/50 chance that I would have this baby," remembers Hutchinson. "I was concerned because I was taking daily shots to avoid blood clots from forming due to sickle cell."
To make matters worse, Hutchinson suffered another devastating health setback during her second trimester.
"I was in the shower, and I remembered feeling a lump on my right breast," remembers Hutchinson. "At first, I didn't think it was anything, and thought it was due to the pregnancy."
When she went for a follow-up with Dr. Michael Paidas, a University of Miami Health System OB/GYN who is chief of obstetrics and gynecology at Jackson Health System, he immediately ordered a biopsy.
The results were devastating: Hutchinson had Stage I breast cancer.
"I was just so heartbroken when I received the news," said Hutchinson. "I was so numb. I couldn't feel anything, and I just didn't understand why this was happening to me."
That evening, her medical team composed of Dr. Paidas, and Dr. Thomas Harrington, a University of Miami Health System hematologist, got on the phone with her to encourage her, and lift her spirits.
They immediately recommended a comprehensive course of treatment that consisted of removing the mass from her breast before she delivered the baby. As a precaution, Dr. Paidas would also be present at the surgery in case the baby was in distress and needed to be delivered early.
But five days before the surgery, Hutchinson suffered another sickle cell crisis that required hospitalization and re-scheduling the surgery.
On September 12, more than a week after being admitted, Hutchison went into labor at 29 weeks. Her newborn son, Jahir, weighed two pounds and 11 ounces. He was immediately rushed to the Neonatal Intensive Care Unit at Holtz Children's Hospital.
"I was just amazed to see his face for the first time," said Hutchinson. "I kept telling him how sorry I was for putting him through a lot."
Nearly two weeks after giving birth, Hutchinson had four lymph nodes and the cancerous mass removed.
Meanwhile, baby Jahir received medical care at the Holtz Children's NICU, where he grew stronger before he was ready to go home.
On November 4, Hutchinson was able to take her baby boy home, after he spent 53 days in the NICU. He now weighs five pounds, 15 ounces, and is doing well.
Just recently, Hutchinson began chemotherapy, which she expects to complete in six months.
Hutchinson is looking forward to the future with her son.
"Jahir changed every aspect of what I had imagined for my life," said Hutchinson. "He's a very strong baby. He's my miracle baby."