Twin Babies Thrive After Complicated Pregnancy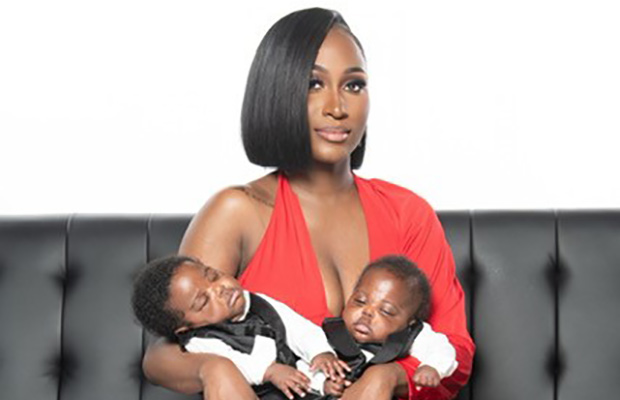 Kelta Auguste, 29, knew her pregnancy was high risk. Along with carrying twins, she was diagnosed with a short cervix, which can lead to preterm birth. Doctors placed a cervical cerclage, or stitch, to prevent Auguste's cervix from opening too soon.
However, nothing could have prepared her for the rollercoaster ride that started during her five-month checkup. At the time, Auguste was roughly 21 weeks pregnant and visiting her maternal-fetal medicine specialist for a routine ultrasound.
"When I got to the appointment, they were doing the anatomy ultrasound for both babies, and everything was looking good," Auguste said.
Then, during the exam, the ultrasound tech's face changed, and she went to get a doctor.
"I knew that was not good," Auguste said. "That doesn't happen unless something is wrong."
Within minutes, the doctor told her one of her twins was descending in the cervix, signaling she was at higher risk of going into preterm labor. Auguste's doctor recommended she go to Jackson Memorial Medical Center, home to the UHealth Jackson Maternal-Fetal Medicine team and Holtz Children's Hospital's neonatal intensive care unit (NICU), one of the largest NICUs in the nation.
"They told me to go straight to Jackson because of the situation. They said they would have the best chance of caring for the babies if they were born so early," she said. "I called my mom and my husband, and told them what was going on. I had never been to Jackson Memorial and I was very nervous. As soon as I got there, though, I felt at ease because of the urgency they showed me."
Weeks On Bed Rest
Auguste was admitted to the labor and delivery unity at The Women's Hospital at Jackson Memorial, so they can closely monitor her in case she went into labor.
"This was already a very high-risk pregnancy for her," said Jessica Moore, MD, an OB/GYN resident at Jackson Memorial. "At the gestational age of 22 weeks, it was very dangerous for the babies to be born."
During the first few days, Auguste had no contractions and showed no signs of labor, so she was moved to the antepartum unit, where she would continue to be monitored closely while on bed rest.
She stayed in the hospital for more than seven weeks, so doctors could quickly intervene if the babies came early.
While Auguste was hospitalized, her maternal-fetal medicine (MFM) team met with Holtz Children's NICU staff to plan for the twins' delivery. They also gave her medication to boost the development of the babies' lungs, which are underdeveloped in most pre-term births.
"It was really stressful, but I can honestly say the MFM team gave me a reassurance that I don't think I ever would have gotten anywhere else," Auguste said. "They are so skilled in situations like mine, and so attentive. They always rushed in and made sure we were taken care of immediately."
Auguste explained her caregivers made her feel at home. She became close with many of the staff on her team, especially Dr. Moore.
"Dr. Jessica Moore – she's an angel on earth," she said. "I remember I was having a very bad day, I just wanted to go home, and she came in. She sat at my bedside and just spoke with me for an hour. I was so lonely, and I never had a doctor really sit with me like that before. She made me feel like I had someone."
Delivery
When Auguste was roughly 28 weeks pregnant, she went into labor.
"Kelta knew her body, she knew something was wrong," Dr. Moore said. "And then she trusted in us. She just remained calm, and we did what was necessary to deliver the babies as expeditiously as possible."
Auguste said the birth was like a whirlwind.
"Within seconds, doctors were on the floor, and within minutes, they were in my room," she remembered.
The babies, Josiah and Jasir, were born and immediately rushed to Holtz Children's NICU, where they stayed for 55 and 72 days respectively as they grew, developed, and adjusted to early life outside of the womb. Despite their early delivery and challenges during the pregnancy, Auguste said the twins did well.
"I truly believe it was the interventions of the MFM team and the care everyone provided me that made their situation less precarious than other twins born at that gestational age," she said. "Anything that could be addressed or made easier, they did."
The twins are now nine months old. Auguste and her husband are enjoying life with three children under five.
"Jackson saved my kids," she said. "For a long time, I didn't think they would make it. I remember when I first got to the hospital and met with the NICU team, I was told, 'we'll do everything we can, but there's a possibility they may not make it.' That was one of the scariest times for me. But look at them now. They shocked everyone."