Woman Suffering from Life-Threatening Condition is Saved at Jackson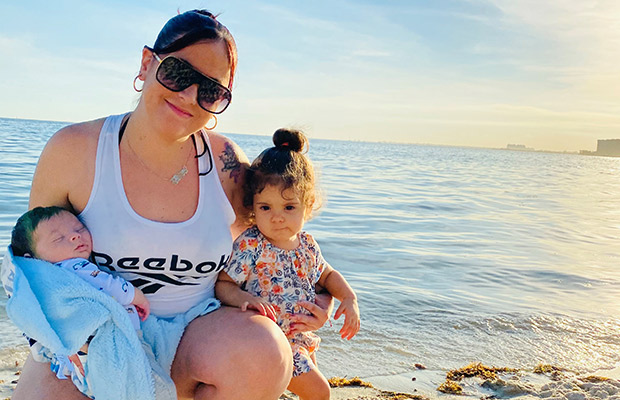 The third pregnancy for Stephanie Nuñez seemed routine, with no significant differences from her first two pregnancies.
But during her sixth month of pregnancy, Nuñez, 29, began to experience bleeding – not once, but twice, requiring hospitalization both times. Doctors feared she had placenta accreta, an uncommon condition in pregnancy in which the placenta grows too deeply into the uterine wall that can lead to severe or potentially life-threatening blood loss after delivery. An MRI confirmed what doctors suspected.
"After I was diagnosed with an accreta, I was told I needed to be transferred to Jackson Memorial Hospital," said Nuñez. "My doctor reassured me that my baby and I would be fine because Jackson has one of the best NICUs (neonatal intensive care units) in the country."
Four days later, she experienced a third bleeding episode and was immediately rushed to The Women's Hospital at Jackson Memorial, where she spent the next five weeks under the care of a medical team that followed her closely to ensure that she and her baby survived.
Although it was hard being away from family – especially her two daughters – Nuñez knew that she was receiving the best care in the best place.
On December 3, Nuñez gave birth to a baby boy via emergency Cesarean section. Eduardo was born prematurely at 34 weeks, weighing six pounds, one ounce. Immediately after birth, he was rushed to the Holtz Children's Hospital NICU.
In order to save Nuñez and prevent her from hemorrhaging after the delivery, doctors performed an emergency hysterectomy – ruling out the possibility of her having more children in the future.
At Jackson, the medical team understood that this was difficult news for her to hear, but Labib Ghulmiyyah, MD, a maternal-fetal medicine specialist, reassured Nuñez that she would be okay.
"We're proud to be one of the most experienced hospitals in the country when it comes to life-saving care for patients with placenta accreta," said Dr. Ghulmiyyah. "In Stephanie's situation, we were forthwith about her surgery and also made sure she knew that we would do whatever we needed to do to make sure she and her son would be fine."
Within days, Nuñez was released from the hospital to go home. Eduardo remained in the NICU at Holtz Children's for 16 days, growing stronger and learning to feed on his own.
Nuñez and her husband visited him daily.
"Those first few days were very hard on me," she said. "I was in a lot of pain, and my body hadn't recovered from childbirth or the hysterectomy. But I didn't care. All that mattered to me was that I was with my son. I didn't care about the pain. That was secondary to his health."
Just days before Christmas, the family received the call they'd been waiting for: Eduardo was ready to come home, where he would finally meet his two big sisters.
It was a holiday to remember.
"I'm thankful that I was transferred to Jackson Memorial and for the nurses and doctors who saved my life and my baby's life," she said.