Patient Undergoes 12-hour Surgery While Pregnant, Gives Birth at Jackson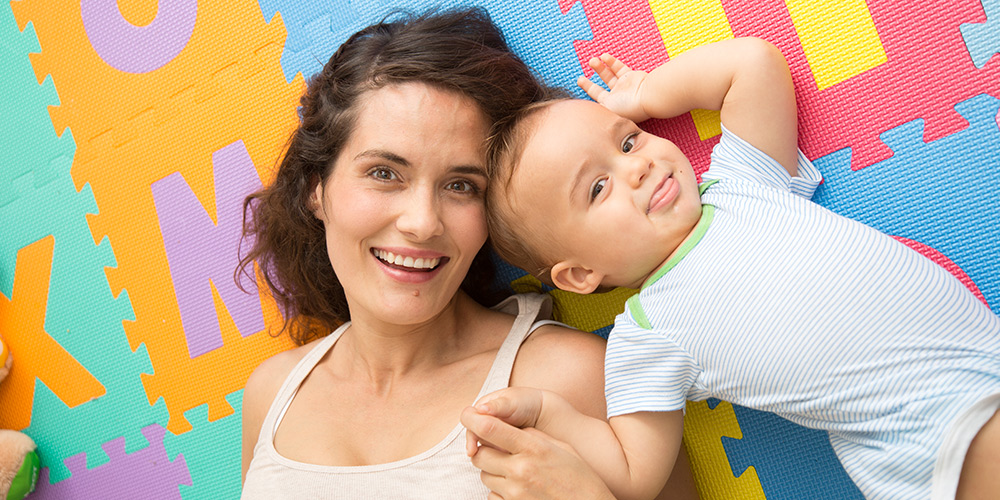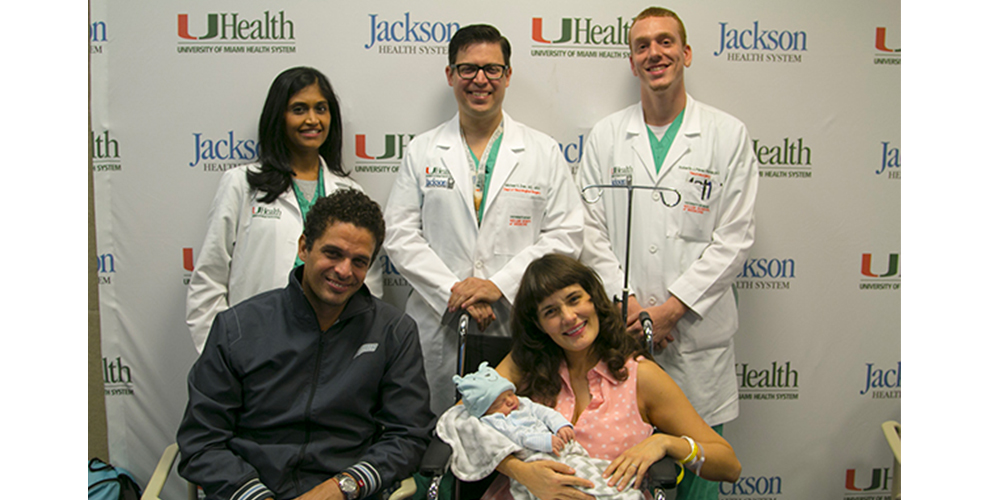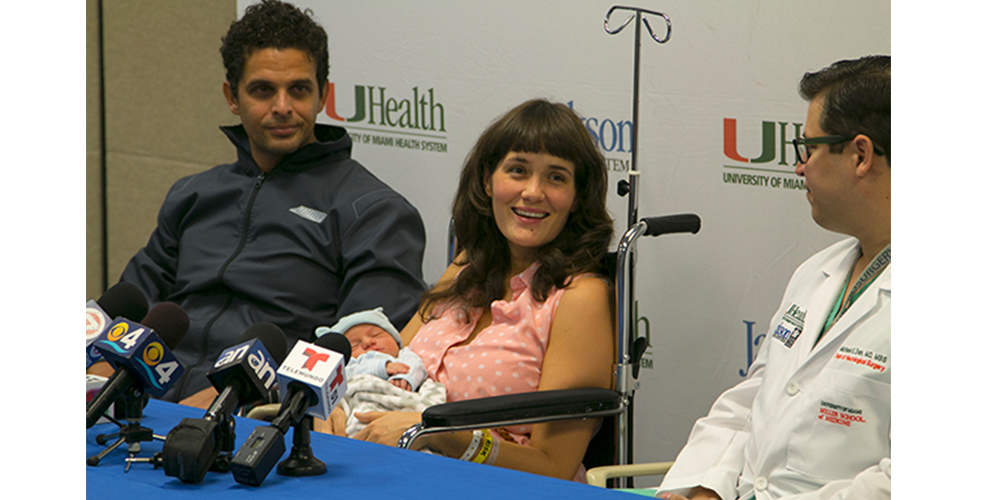 Maria Emilse Muñoz Peña, 32, was in the middle of her pregnancy when she began losing her vision.
Thinking it was a side effect of being pregnant, she initially didn't pay much attention to it. But her vision progressively worsened – she could no longer read, could barely make out shapes and colors, and couldn't recognize faces – so she went to an ophthalmologist for a checkup.
When the doctor discovered her eyesight was perfect and not causing her vision loss, he instructed her to immediately go to the emergency room at Bascom Palmer Eye Institute for a scan of her brain.
"He told me it was life or death," Muñoz Peña recalled.
An MRI revealed that Muñoz Peña had a large, benign meningioma, a tumor that forms on the membranes that cover the brain. The size of an egg, the tumor was pushing against both optic nerves, causing near blindness.
"I was very afraid, mostly because of my baby," she said. "When they say the word 'tumor' it is very scary. I didn't know what was going to happen."
Muñoz Peña was immediately sent to the obstetrics emergency unit at The Women's Hospital at Jackson Memorial. There, she was seen by UHealth – University of Miami Health System neurosurgeon Michael E. Ivan, MD, MBS, who reviewed her case and decided that surgical removal of the tumor was the best option.
"We found that there was this tumor that was pushing down and strangulating the nerves that go to her eyes," Dr. Ivan said. "When we saw that, we realized this was not something that could wait until she delivered. It was something that we were going to have to act on quickly if we wanted to save her vision."
Dr. Ivan led a complex, 12-hour surgery on December 29 at Jackson Memorial Hospital to remove the tumor. While operating, Dr. Ivan discovered a second benign brain tumor, which he also removed.
Because Muñoz Peña was 27 weeks pregnant, a team of OB/GYNs and anesthesiologists remained in the operating room throughout the procedure, closely monitoring the fetus. They were prepared to do an emergency Cesarean section (C-section), if needed, to save the baby.
Following the surgery, Muñoz Peña recovered in the neuroscience intensive care unit at Jackson Memorial, where she almost immediately regained her vision. More importantly, she said, doctors did not have to deliver her baby prematurely.
In less than a week, Muñoz Peña returned to her Miami Beach home to continue recovering and finish the remainder of her pregnancy.
Muñoz Peña delivered Santino Michar Peña, a 7-pound, 2-ounce boy, via C-section at The Women's Hospital at Jackson Memorial.
"Everything turned out as great as it could be," said UHealth OB/GYN Unzila A. Nayeri, MD, who was part of the team that cared for Muñoz Peña and her baby.
Muñoz Peña is grateful to all of the doctors, nurses, and other medical professionals at Jackson who helped get her through the most difficult time of her life.
"If I had to go through this ordeal, Jackson is the best place in the United States to handle such a complex case with the expertise of the physicians and the technology available," she said. "This is a miracle times two – first me surviving brain surgery, and then my baby being born healthy."