Multidisciplinary Team Saves Mother from Rare Ruptured Uterus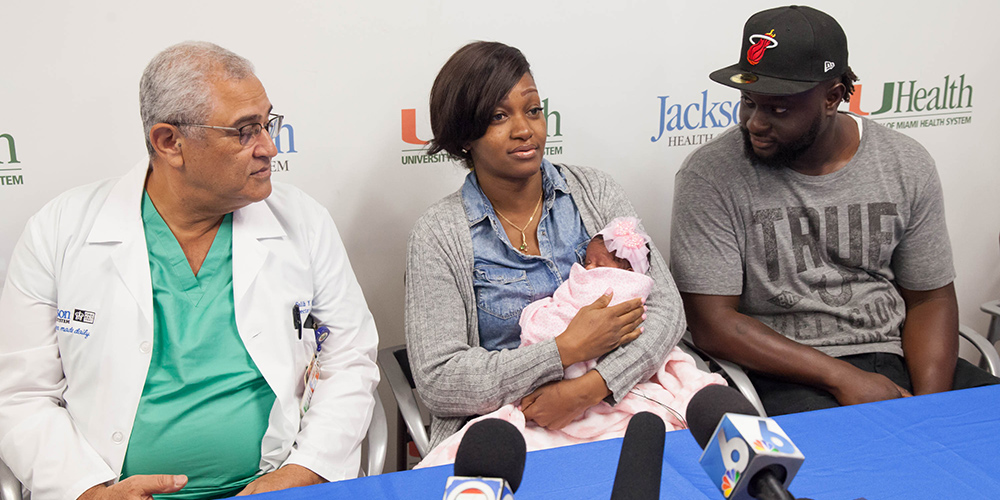 At 28 weeks pregnant, Joy Miller was enjoying a normal pregnancy. Just a few weeks earlier, Miller and her husband, John Dorvil, celebrated a gender reveal party that confirmed they would be the proud parents of a second baby girl.
"I was feeling great, and everything was going fine," recalls Miller. "Everything was going according to plan. We were excited, and planning our baby shower for June."
In the last week of April, the 33-year-old mom, who is a patient care tech at Jackson Memorial Long-Term Care Center, started feeling unusual movements and kicks from her unborn baby.
"I felt the baby moving a lot; her kicks were getting more aggressive every time," remembers Miller. "I didn't think it was normal, and I felt like the baby was trying to tell me something."
Miller decided to rush to Jackson North Medical Center's Emergency Department to make sure the baby was doing well. After further ultrasounds and MRI's, results revealed Miller's uterus had ruptured – a very rare condition that can cause the death of the mother and unborn child.
In Miller's case, images showed her baby remained inside the placenta sac, but was floating in her abdominal wall. She was immediately transferred to The Women's Hospital at Jackson Memorial, where Salih Yasin, MD, a University of Miami Health System and Jackson Memorial Hospital obstetrician/gynecologist who specializes in high-risk pregnancies, took over her care.
A multidisciplinary team of specialists, including doctors to care for Miller and neonatologists to care for the baby, staffed the operating room at Jackson Memorial Hospital for the emergency Cesarean section and hysterectomy. Baby Janelle Marie Dorvil, who weighed two pounds, 11 ounces, was immediately taken to the Neonatal Intensive Care Unit at Holtz Children's Hospital to receive care.
"After I woke up from my surgery, I finally got to see pictures of my baby girl and broke down in tears," Miller said. "She saved me, and she also saved her life. I am glad I did not ignore her signs."
Even though the baby was named Janelle Marie, Miller says everyone has given her the nickname "Miracle."
"I'm so thankful to Dr. Yasin. He's truly a miracle worker," Miller said. "I knew that my baby and I were in the best hands."