Expectant Mother with Life-Threatening Placental Implantation Abnormality Saved at Jackson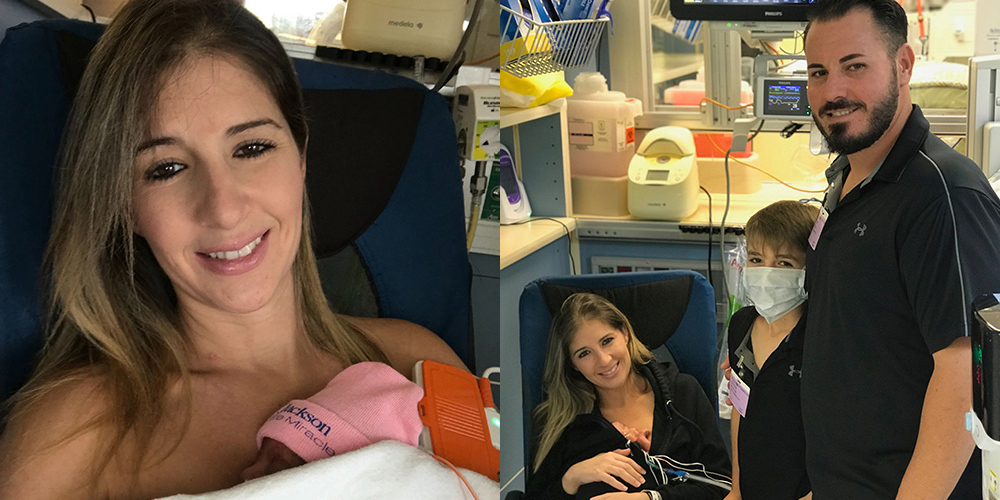 After having three sons, Lilia Silva and her husband were expecting their fourth child – this time a baby girl. When Silva was 19 weeks pregnant, an ultrasound revealed an abnormality with her placenta. A specialist in Palm Beach referred her for an MRI, which confirmed the worst: Silva had life-threatening placental implantation abnormalities, including placenta previa and placenta percreta.
Placenta previa is a condition where the placenta lies low in the uterus and partially or completely covers the cervix, and placenta percreta is a condition in which the placenta attaches itself too deeply, and grows through the uterus, sometimes extending to nearby organs, such as the bladder. This condition can lead to catastrophic postpartum hemorrhage, ultimately killing the mother. These conditions affect 1 in 300 births in the United States annually.
For the four weeks following the devastating diagnosis, Silva tried to find a doctor that would take on her complex case, multiple doctors referred her to the UHealth Maternal-Fetal Medicine Department at The Women's Hospital at Jackson Memorial, which specializes in high-risk pregnancies.
A multidisciplinary team of UHealth – University of Miami Health System maternal-fetal medicine physicians, gynecologic oncologists from Sylvester Comprehensive Cancer Center, radiologists, vascular surgeons, neurologist, trauma surgeons and Jackson nurses reviewed the case and developed a plan of action, which involved a newer treatment, which had been tried once before at Jackson.
"The placenta was like a ticking time bomb," Silva said. "I was at risk of bleeding out any minute. I didn't know if I was going to survive the Cesarean section."
The plan to save her life involved doctors delivering the baby via C-section at 28 weeks, and leaving the placenta inside the uterus. Silva would then undergo six weeks of chemotherapy to shrink the placenta – as they would a tumor – and decrease the blood flow via embolization. Doctors would then perform a second surgery, remove the placenta and perform a hysterectomy. Silva's life – and that of her baby girl – was on the line.
The week before her C-section, Silva took the time to write letters to her three boys and her unborn daughter, and prepared for what she thought would be her last goodbyes with family.
"I handed over everything to God, and I got a book, and I just started writing," Silva said. "I wanted to tell them how to be in life, how to treat women, how to react to things that would happen to them in life, and how to behave."
Silva underwent a successful C-section, and didn't experience heavy bleeding. The baby girl weighed 3 pounds, 2 ounces and was immediately rushed to the neonatal intensive care unit at Holtz Children's Hospital.
Silva, who had been hospitalized since early November, had grown so close to the staff that took care of her, and decided to name her baby after two Jackson caregivers who made a lasting impression. Natalia Hope Cohen was named after Dr. Natalia Echeverri and nurse Antwaunette Hope.
After delivering the baby, Silva remained hospitalized and began chemotherapy for six weeks. Four weeks into the treatment, an MRI showed her placenta had not significantly changed in size, but her blood levels were going down.
On January 28, Silva began experiencing heavy bleeding. The team rushed her to Ryder Trauma Center's operating room for emergency surgery. Silva received a transfusion of eight units of blood during surgery. A large, multidisciplinary team was on standby in the operating room for the surgery, which ended successfully with surgeons removing the placenta, as well as the uterus, cervix, and tubes.
On February 6, after three months in the hospital, Silva was able to go home and be reunited with her family. Baby Natalia Hope, who remained in Holtz Children's NICU, was discharged three weeks later.
"I was saved by the grace of God, and the whole medical team that took care of me," Silva said. "They have become my family, and I'm so grateful for all the support they gave me."