Despite Fears, Kidney Transplant Patient Delivers a Little Miracle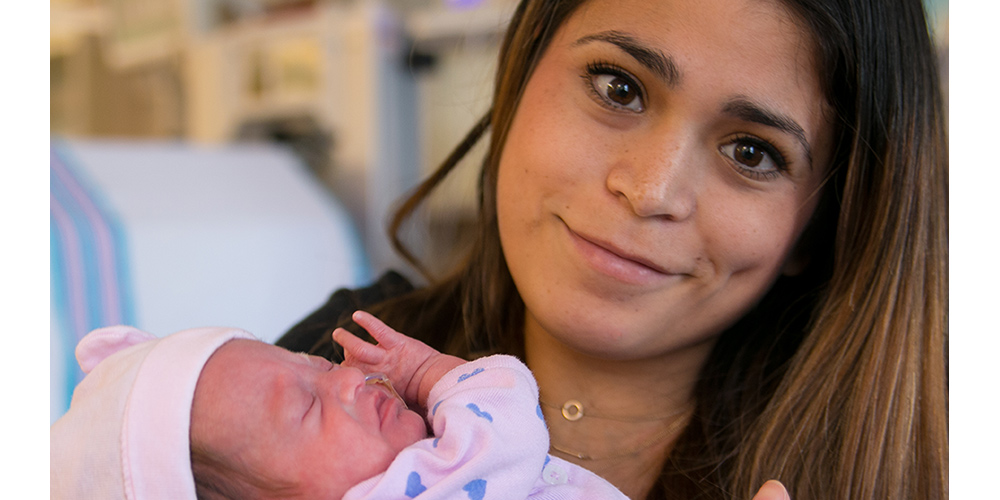 Michelle Castañeda, a kidney transplant recipient, always dreamt of becoming a mother – but feared that she would not be able to have a baby because of her medical history.
At age 5, Castañeda was diagnosed with nephrotic syndrome – a condition in which her body excreted too much protein in her urine. She underwent dialysis treatment until she received a kidney transplant at Holtz Children's Hospital at the University of Miami/Jackson Memorial Medical Center.
"For many years, doctors warned me about getting pregnant because it could pose a threat to my new kidney," remembers Castañeda, now 24. "I had given up on becoming a mother."
But last fall, Castañeda discovered she was three months pregnant.
"I felt so scared and cried so much when I found out I was pregnant," she said. "My family was so worried for my health and at some point asked me to terminate the pregnancy."
Despite her fears, Castañeda continued her pregnancy and was closely monitored by Salih Y. Yasin, MD, a UHealth – University of Miami Health System OB/GYN, who specializes in high-risk pregnancies and has cared for many pregnant women who have had organ transplant surgeries. Because of her condition, Dr. Yasin recommended she deliver the baby at 30 weeks gestation.
On January 18, Castañeda began having contractions after her placenta tore. She underwent an emergency Cesarean section at the Women's Hospital at Jackson Memorial, delivering her baby girl at 27 weeks.
Aria Alexandra Nash weighed two pounds, three ounces, and was immediately transferred to the neonatal intensive care unit at Holtz Children's.
Aria received oxygen support for two weeks, and then quickly learned to bottle feed. The baby is healthy and is expected to go home today.
"I just want her to grow up healthy, and give her so much love," Castañeda said. "I got my baby. I got my miracle."