Baby with Thyroid Mass Safely Delivered Via EXIT Procedure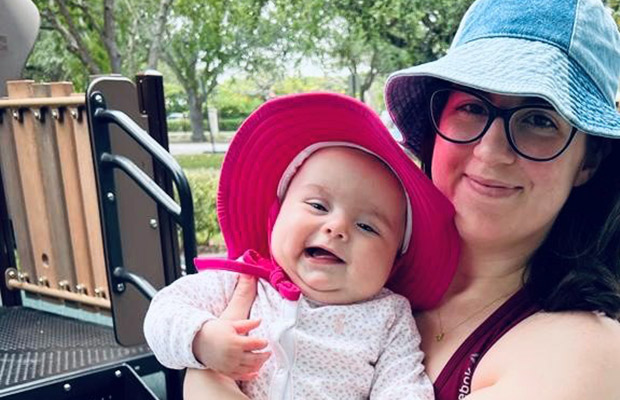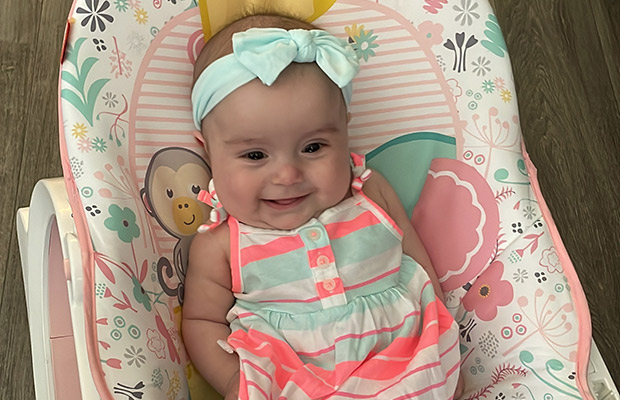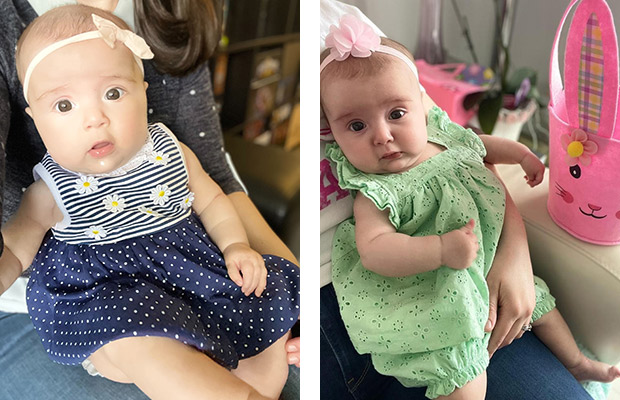 Claudia Martinez and her husband were thrilled when they found out they were expecting a second child. They already had a two-year-old son and were excited to add a little girl to their family.
When Martinez was 38 weeks pregnant, an ultrasound revealed that her baby had a mass on her neck, which could prevent her from being able to breathe after birth.
Martinez's doctor immediately directed her to The Women's Hospital at Jackson Memorial.
"My medical team didn't want to risk my or the baby's health at delivery," she said. "They felt like Jackson could give me a higher level of care."
Once transferred, Martinez and her baby were put in the care of Michael J. Paidas, MD, Jackson's chief of service for obstetrics and gynecology, who also specializes in maternal-fetal medicine.
After additional imaging and tests, Dr. Paidas and his team decided to deliver the baby at 39 weeks, performing an ex-utero intrapartum treatment procedure – or EXIT procedure – where doctors intubate and secure the airway of a baby during birth via cesarean section. This ensured the baby girl was able to breathe before she was separated from the placenta.
"After the EXIT procedure was explained to me, I felt at ease," Martinez said. "I trusted my medical team and prayed to God, asking to give the doctors wisdom to be able to handle any complications that might've occurred."
Martinez's complex case also required a multidisciplinary team be present during the procedure, including specialists and nurses from maternal-fetal medicine, neonatology, anesthesia, pediatric otolaryngology, pediatric cardiology, pediatric cardiovascular surgery, and general surgery.
"There are so many risks involved if you don't immediately secure the baby's airway, including having to perform an emergency tracheostomy, or worst case scenario, having to open the baby's chest," Dr. Paidas said. "Luckily, in Claudia's case, everything went well."
Martinez's daughter, Alyssa Tirado, was born on December 29, 2021, weighing 9 pounds, 9 ounces. As expected, Alyssa had a thyroid mass measuring about 4.6 centimeters long and 3.45 centimeters wide.
"We were concerned with the size of the tumor. We thought it was very big and could potentially compress the baby's airways," said Ramzi T. Younis, MD, a Jackson pediatric otolaryngologist who intubated Alyssa. "It was very difficult to intubate the baby because of the swelling in her larynx. It was almost swollen shut."
After the baby girl's airway was open and stable, she was put in the care of the neonatal team at Holtz Children's Hospital.
Doctors confirmed that Alyssa had congenital hypothyroidism, a condition in which her thyroid does not produce enough hormones. The mass could be managed with medication and did not have to be surgically removed.
"The first time I saw her was after midnight. My husband rolled me to the neonatal intensive care unit to see her," Martinez said. "She looked so strong despite the breathing tubes. I was so happy at that moment that we were both alive and thriving."
Within 48 hours, the breathing tubes were removed. Alyssa remained in the NICU for eight days before being discharged. She now takes daily medication, and is monitored for her condition.
"Dr. Paidas' team went above and beyond, from beginning to end," Martinez said. "The level of care at the Holtz Children's NICU was amazing. Every nurse I met or spoke with knew the details of my baby's condition, which gave me lots of confidence and hope."